Our Technique
3D lasers
With our two high-performance programmable 3D laser units, we are able to cut sheet metal parts and containers precisely according to your drawings or CAD files.
Our 6-axis interpolating technology makes it possible to carry out the exact non-contact machining of your components.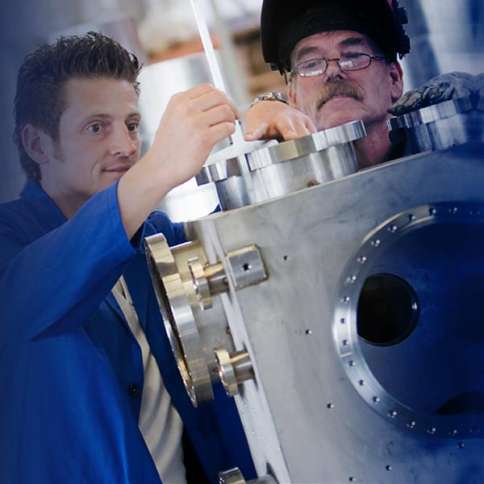 Special equipment
The process chambers and piping systems we fabricate meet our customers' most demanding requirements. In most cases, this equipment is used in vacuum and cryogenic applications. Many organisations increasingly rely on our expertise: not only universities and research institutes, but also the R&D departments of industrial companies. In close collaboration with your project coordinators, we transform your development work meticulously and rapidly into real production.
On request, we conduct a variety of certification tests, such as helium leak tests, or arrange TÜV acceptance testing.
Typical special equipment includes:
Recipients
Flexible liquid gas lines
Valve manifold systems
Pump bodies for the generation of high vacuum
Refrigeration systems
Coating chambers
We are a TÜV-certified manufacturer of pressure vessels
Equipment construction
As a turnkey solution for your needs, we offer the fabrication of complete assemblies and welded structures.
According to your designs, we assemble sheet metal parts and mechanical elements to produce equipment.
In so doing, we use a variety of methods including TIG, MAG, MIG, micro-plasma and laser welding.
Mechanical machining on CNC turning and milling machines can also be carried out at our facilities, ensuring the reproducible high quality of your equipment.
Surfaces can then be ground, glass bead blasted and degreased on request.
We are certified according to DIN EN ISO 3834-3
Deep drawing plant
We use the technologies of deep drawing, punching and stamping primarily in the area of medium-scale series production. We draw containers and pans up to a diameter of 600 mm and a height of 200 mm. To deep draw pans and containers, our deep drawing presses can apply a force of up to 400 t on the sheet. For more complex shapes, we use the hydro-mechanical deep drawing process, which enables even more uniform wall thicknesses and a flowing appearance.
The benefits of deep drawing technology for you:
Medium-scale series are produced cost-effectively and rapidly. The forming process is precise and reliable.
Metal spinning
Metal spinning is ideal for the production of small and medium-scale series. The process enables the production of rotationally symmetric parts, which can also be very large:
We form hollow elements of up to 3.200 mm diameter.
Some demanding forming operations can only be achieved by the metal spinning process.
The benefits of metal spinning for you:
Set-up times are relatively short and tooling costs are low. You receive high quality prototypes and new series production parts in a short period of time!